Meat & Strength: A Vegan's Perspective on the Psychology of Sports Nutrition
Related Articles:
Anti-Vegan Training Myths & The Protein Question
My Response to ESPN's Piece on Arian Foster
The Paleo Diet?
What's the Deal With Carbs?
*Update 11/9/12* It has now come out that Foster is no longer following a vegan lifestyle. The Texans' running back is quoted as saying, "I've had meat since I said I don't eat meat." Whether his efforts are still a work in progress or he has forgone veganism entirely remains to be seen. Regarding this post, I still maintain everything I originally posted, as it has more to do with irrational critiques of veganism as a whole as opposed to Foster's case in particular.
—
A well-written article was published recently on the "Forks Over Knives" website. Written by Melanie Joy, Ph.D, she examines what she calls "Dis-ease of the Heart". Dr. Joy observes an area that I believe should be brought to attention more frequently, that being the psychological reasoning behind our appetites for animal foods.
Modern science as well as many world-class athletes and average healthy, happy people, have proven over & over again that there is no physiological necessity for the consumption of animals or their substances. Moreover, we also encounter very few instances in the developed world where people have to consume animal foods to stave off starvation. To be blunt, in the world of the average person, there is no "need" for animal consumption, there is only a very powerful "want".
Inspired by the efforts of Dr. Joy, I would like to take my own examination of the psychology of animal consumption into the world of sports nutrition, an arena where such practices are almost dogmatically considered essential for optimal athletic performance.
This topic is obtaining increased attention from the mainstream, particularly in regards to the efforts of NFL running backs Arian Foster of the Houston Texans & Montell Owens of the Jacksonville Jaguars. ESPN already did a piece prior to the start of the 2012 NFL season lambasting Foster for his decision on the presumption that he would automatically be a sub-par player for taking up a vegan lifestyle.
Thus far, their prediction remains to be seen. Examples like those of Foster & Owens do well to help broaden people's views on the subject, as well as other athletic vegan pioneers like Brendan Brazier, Robert Cheeke, Carl Lewis, Mac Danzig, Jake Shields, David Zabriskie, Derek Tresize, and cultural groups like the Shaolin Monks. Still, the overwhelming majority of people still consider meat an essential component of cultivating athletic prowess.
In modern history, the primary justification for meat & other animal product consumption is to fulfill the body's protein requirements. In that time, nutritional science has progressed markedly, and with it we now have a much more accurate understanding of protein's role within body. It used to be thought that protein was the body's main energy source, however we now know that body relies on glucose for energy. Although proteins can eventually be broken down into glucose, carbohydrates are a more direct source, requiring significantly less energy to extract the energy they contain.
Animal product consumption has also been repeatedly linked to maladies the likes of heart disease, cancer, diabetes, osteoporosis, & obesity. Much more information can & has been detailed with regards to the influence of animal products in the body, but we must wonder why they're still considered so important to the athlete when there's so much to show their detrimental effects?
While many will still point to protein, the experience of the vegan bodybuilding community shows the invalidity of that argument. I feel the real reason for its prevalence is in the psychology of animal consumption.
If you can read this on your computer screen, you probably don't live in an area where you have to hunt or gather your food or fight for your family's survival on a daily basis. These used to be realities in our past, but no longer. Sport serves as a refined expression for the qualities that would otherwise be utilized in such practices. With that being said, sport is a very competitive, testosterone filled sphere (after all, that's what makes it fun).
Most of us will recall hearing in school about how ancients used to consume an animal in the hope to acquire its strength. I think this still persists on a sub-conscious level (if nothing else) for many athletes; regardless of your build or physical ability, you're not regarded as "strong" unless you eat an animal. If you don't, people think you're a wimp, and in the sports world, wimps lose.
The idiocy of this line of thought should be obvious. Having just passed my 5 year anniversary of living without meat, I've heard my share of "vegan is the Indian word for bad hunter" jokes. Of course, everybody laughs, but if I comeback with "meat eater is the slick phrase for murderer," people get offended. Why do people get offended? Probably because its closer to the truth than what they'd like to be reminded of.
"Strength is kindness and sensitivity. Strength is understanding that your power is both physical and emotional. That it comes from the body and the mind. And the heart." – Henry Rollins
Real strength comes from the ability to follow your heart's conviction when the environment your in isn't conducive for it. It's been said more than once that if people had to hunt & process their own meat or if slaughterhouses has glass walls, the world would be predominantly vegetarian. Statements like these show where the hearts of the masses lie, yet instead of making the decision to refrain from supporting something they couldn't do themselves, they just pay others to do it for them for the sake of appetite & cultural normality.
To my mind, that is weakness, and the state of the western world is steadily revealing the consequences for the weakness of the masses.
Until next time…
Keep it strong, keep it vegan.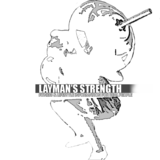 Categories:

Lifestyle, Nutrition, Sports, Training, Vegan, Vegetarian
Arian Foster, Average People, Health, layman's strength, lduncan88, Montell Owens, Sports, Training, Weight Loss