Tips For Staying Lean & Healthy In A Caloric "Surplus"
Related Articles:
Eating for Optimal Digestion
In a nation where over 2/3 of the population is overweight, many people fear having a caloric surplus. The supposed benefits of calorie restriction are touted often, but we don't hear as much about the other side of the coin; the benefits a calorie surplus can offer and the risks of restricting your calories. The most glaring of these is the role of calorie consumption as it relates to maintaining an optimal hormonal environment.
Calorie restriction alters your natural hormone levels, and can make it increasingly difficult to have high-quality sleep, emotional stability, or to be able to properly recover from your life's stresses (whether they be physical or emotional). Putting your body into a caloric surplus can not only prevent many of these issues from manifesting, but it can also help to restore your body if you are currently dealing with them, as well as achieving new levels of performance & production.
Unlike most, I don't believe that a caloric surplus in-and-of itself will cause one to gain weight. Rather it is a caloric surplus that is founded upon the consumption of junk food. It's not a quantitative issue so much as a qualitative one. When good food choices are emphasized, one can live in a caloric surplus and still maintain a lean, high performance body. How? By tuning up your metabolism. Think of a Top-Fuel Dragster vs the car sitting in your driveway. Increasing the performance of the engine increases the amount of fuel it needs as well as the quality of that fuel. Your metabolism can be worked on similarly by living a healthy, active lifestyle long-term.
You won't be cover model lean living this way (as they are both glycogen depleted & dehydrated and often take steroids or other anabolic substances), but you can be leaner than average. The following are some tips I offer you to help make that a reality.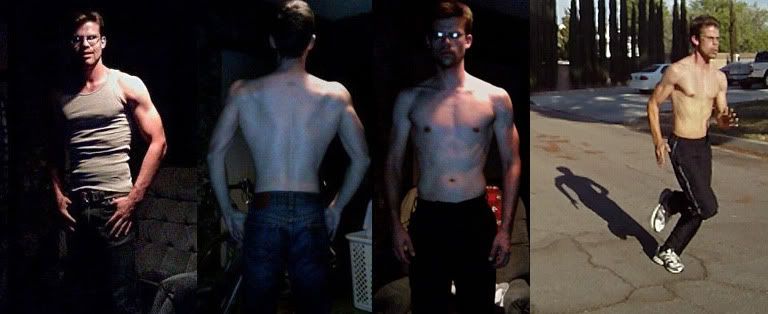 What I look like year-round eating 2500-3500 calories per day at 6'1″, 145-150lbs.
1. Make Your Primary Calorie Source High-Water Carbohydrates
Perhaps the biggest issue concerning a caloric surplus is the digestive burden placed on the body. To minimize this effect, it's important that the bulk of your food, in both volume & calories, comes from high-water content carbohydrates, specifically fruits & vegetables. Water is absorbed very easily by our bodies, and foods with the most water in them digest the easiest. Fruits & vegetables can be found in this state naturally, while many other carb sources (tubers, grains, legumes) can have water cooked back into them.
The reason for emphasis on carbohydrates is that they provide the most direct path to energy (i.e. glucose). Fats & proteins require a much more extensive process to extract energy from them, and they can put the body into dirty, inefficient metabolic processes as a result. Carbohydrates themselves are roughly 70% water which aids in their digestive breakdown compared to fats & proteins which contain far less water.
Whole-food carbohydrate sources are abundant in fiber, which helps to keep the intestines clean & defecation easy. By general comparison, high fat/protein foods are not, and they can lead to constipation (and diseases of the colon) when consumed abundantly to the exclusion of fiber.
2. Reduce or Eliminate Consumption of Animal Foods
Animal foods produce a highly acidic environment that the body must continually combat (by leaching calcium from your bones) when they are regular parts of one's diet. Part of this response is an effort to dilute the amount of acidic compounds stored in our bloodstream & various tissues. To do this, the body will retain excess water, which can cause one to become bloated. Acidic waste material is also often stored in adipose tissue, so an accumulation of bodyfat can accompany diets high in animal products.
In addition, animal fats & proteins are regular contributors to chronic baseline levels of inflammation & insulin resistance which have a detrimental effect on your body's ability to effectively & efficiently process carbohydrates.
3. Reduce or Eliminate Consumption of Added Sodium
Sodium consumption can also lead to bloating & excess water retention, especially when compounded by the effects of animal products, oils, & other processed foods.
4. Meet Your Potassium Requirements
Where sodium extracts fluids from cells, potassium helps deposit them there. Having an adequate amount in your diet can ensure cellular hydration and reenforce the excretion of unnecessary fluids.
5. Eat Foods Promoting Alkalinity
Alkalizing foods help to maintain the body's PH balance in the face of the metabolic waste material generated by life's processes. As such, they reduce the need for the body to dilute these acidic compounds, which allows water to be stored in cells, mixed with stool, or excreted through urination.
Anything with a high amount of chlorophyll will promote alkaline blood. Green, leafy vegetables are some of your best bets to consume chlorophyll, however most fruits & vegetables (even acidic fruits like citrus) are alkaline upon digestion because of their mineral balance.
6. Drink Lots of Water
This may sound counter-intuitive considering what's been said so far, but frequent consumption of water actually helps to reduce bloating & storage of excess fluids. When we present an environment in which hydration needs are easily met, the body doesn't have a reason to retain water. Instead, it will become more efficient at metabolizing water and cycle it out more regularly so as not to become overhydrated. This process helps to remove waste materials out of the blood and maintain balanced PH levels.
7. Reduce or Eliminate Consumption of Stimulants
Stimulants work by causing the adrenal glands to secrete adrenaline into the bloodstream, causing a temporary boost in energy & cognitive perception (and a corresponding "crash" when it leaves the bloodstream). Frequent, long-term ingestion of stimulants, as we see in America, overburdens these organs, causing them to eventually burn out which leaves an inability to meet natural hormone secretions. The affects of stimulants are multiplied in the context of a high-stress lifestyle that we see among the population of the U.S. and many western countries.
The imbalance left by adrenal fatigue will migrate through the other hormonal structures as the body attempts to compensate. This can interfere with basic functions like sleep, libido, & digestion which feeds right back into the established hormonal deficiencies, causing a downward spiral of physical & mental well-being.
8. Reduce or Eliminate Consumption of Processed Foods
Similar to animal foods, processed foods promote an acidic PH profile. In my opinion, this has less to do with the foods themselves so much as the refining process and what it leaves behind. Either way, there are many foreign substances in processed foods that the body recognizes as indigestible toxins, and it will retain excess water & fat in an attempt to remove or store away these substances.
9. Stay Active
The main benefit of maintaining a caloric surplus is having more energy to be active and more nutrients to recover from activity. Take advantage of this by getting involved in your favorite sports & pastimes.
10. Rest Hard
If you're training hard, you need to rest equally hard so your body can take full advantage of the nutrients coming in for recovery. Priority number one is optimizing the quality of your sleep, but also taking time for prayer & meditation is a great way to supplement your efforts and encourage your body to relax. Adequate rest also reenforces proper hormonal balance, where inadequate rest can lead to deficiencies & imbalances.
Until next time…
Keep it strong, keep it vegan.